In a study led by National Institutes of Health researchers, scientists found that five genes may play a critical role in determining whether a person will suffer from Lewy body dementia, a devastating disorder that riddles the brain with clumps of abnormal protein deposits called Lewy bodies. Lewy bodies are also a hallmark of Parkinson's disease. The results, published in Nature Genetics, not only supported the disease's ties to Parkinson's disease but also suggested that people who have Lewy body dementia may share similar genetic profiles to those who have Alzheimer's disease.
"Lewy body dementia is a devastating brain disorder for which we have no effective treatments. Patients often appear to suffer the worst of both Alzheimer's and Parkinson's diseases. Our results support the idea that this may be because Lewy body dementia is caused by a spectrum of problems that can be seen in both disorders," said Sonja Scholz, M.D., Ph.D., investigator at the NIH's National Institute of Neurological Disorders and Stroke (NINDS) and the senior author of the study. "We hope that these results will act as a blueprint for understanding the disease and developing new treatments."
The study was led by Dr. Scholz's team and researchers in the lab of Bryan J. Traynor, M.D., Ph.D., senior investigator at the NIH's National Institute on Aging (NIA).
Lewy body dementia usually affects people over 65 years old. Early signs of the disease include hallucinations, mood swings, and problems with thinking, movements, and sleep. Patients who initially have cognitive and behavioral problems are usually diagnosed as having dementia with Lewy bodies, but are sometimes mistakenly diagnosed with Alzheimer's disease. Alternatively, many patients, that are initially diagnosed with Parkinson's disease, may eventually have difficulties with thinking and mood caused by Lewy body dementia. In both cases, as the disease worsens, patients become severely disabled and may die within eight years of diagnosis.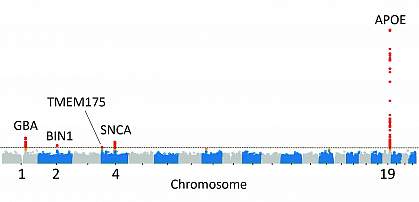 An NIH-led study found that the sequences of five genes may help determine whether a person will suffer from Lewy body dementia, a devastating brain disorder.Scholz lab, NIH/NINDS
A growing body of evidence suggests genetics may play a role in the disorder and that some cases may be inherited. Scientists have found that some of these rare cases can be caused by mutations in the gene for alpha-synuclein (SNCA), the main protein found in Lewy bodies. Further studies have found that variants in the gene for apolipoprotein E (APOE), which is known to play a role in Alzheimer's disease, may also play one in Lewy body dementia.
"Compared to other neurodegenerative disorders, very little is known about the genetic forces behind Lewy body dementia," said Dr. Traynor. "To get a better understanding we wanted to study the genetic architecture of Lewy body dementia."